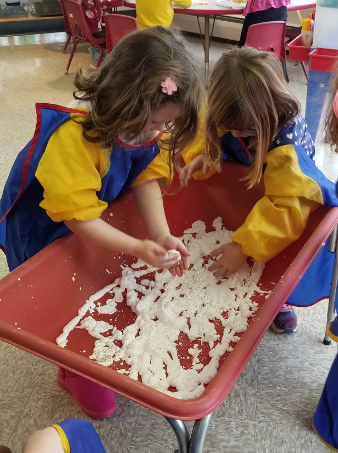 Perinton Nursery School's curriculum is play-based in alignment with Fairport Central School District's Elementary Program. More specifically, our educational philosophy is inspired by the Reggio Emilia Approach, and is built on the following principles and practices:
Each child is valued and seen as an individual, with their own unique gifts and personality.
Children are allowed to have some control over the direction of their learning. The teacher supports this autonomous (self-directed) learning by actively seeking out, and following the interests of the children.
The process of learning is emphasized instead of an end-product. This applies not only to art, but to block creations, play dough sculptures, and all aspects of play.
This process of learning is documented in class by teachers, and shared regularly with parents through videos and photographs.
Classroom materials are purposefully selected and ever-evolving, to encourage children to delve deeper and deeper into their interests.
Activities are open-ended and allow children to learn through experiences of touching, moving, listening and observing.
Our Cooperative Philosophy
Our philosophy is most effective when teachers and parents work together as a team. As a cooperative preschool, PNS invites parents to be actively involved in the school and engaged in the education of their child.
When parents are invited to assist teachers in the classroom, they gain insights on how to best continue the learning process at home, while being able to witness and participate in cherished early school experiences.
Our teachers help facilitate home learning by regularly sharing documentation of in-class activities through a classroom app, providing individualized feedback via parent-teacher conferences, and by providing resources to help parents incorporate learning into everyday activities at home.