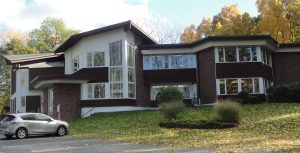 Perinton Nursery School is located in the lower-level of the Mountain Rise United Church of Christ at 2 Mountain Rise in Fairport, NY.  PNS is however, not your typical church-basement preschool.  Our cheerful and safe facility includes:
Three spacious, interconnected, rooms with large windows creating a bright, open, atmosphere where children are free to play, explore, and imagine through center-based activities.
A separate "big room" provides kids with a spacious area ideal for large motor play, and is stocked with a variety of pedal toys, climbing equipment, and balls.
A fenced outdoor playground area featuring slides, climbing equipment, and a sandbox is used regularly in fall and spring.  It also allows for sledding and snowmen in winter months.