Mondays, Wednesdays, & Fridays  9:00 – 11:30 a.m.. 
There is a focus on child initiated themes and activities while ensuring that standards are met in accordance with NYS Early Learning Guidelines. The 4/5's continue their work with gross motor skills, and fine motor skills, with a focus on preparing for writing. The 4/5's class works on letter recognition and phonemic awareness, numbers 1 -20, calendar, and weather. They also review colors, days of the week, and do more in depth crafts, activities, and lessons. A parent is in class as a helper approximately 6-8 times per year depending on class size.  Click Here to Watch our Video Tour!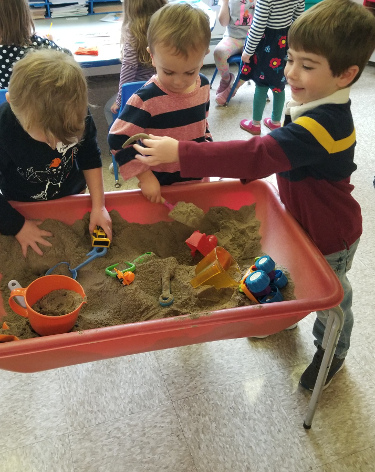 Sample Daily Schedule  
8:45-9:00  Arrival welcome, Question of the Day, books, play dough, find your name and sign in, wash hands
9:00-9:20  Greeting circle and language development: pledge of allegiance, show and tell and Jolly Phonics
9:20-10:45  I.C.E. (Investigate, Communicate, Explore) Time: learning centers, such as math, language, science, books, dramatic center, fine motor, project, free flow snack, bathroom breaks, and hand washing
10:15-10:45  Snack table open — free flow
10:50-11:10  Math Circle: math concept, 100 day chart, calendar, weather, sharing and discussion about the morning
11:10-11:30  Large Muscle Movement/Outside: dance, yoga, cooperative games, music
11:30-11:40  Dismissal
Tuition – $1415/$1715*
*The 4/5s class allows a small percentage of enrolled families to opt-out of the majority of the co-op responsibilities at a higher tuition rate.  For those families who opt-out, parents are not required to help in the classroom but are always welcome to join the class for special events.  
Child must be 4 years old by December 1st, 2022.
*** Open Enrollment for the 2022-2023 school year begins in January. Tours will begin in November 2021***