Mondays, Wednesdays, & Fridays  9:00 – 11:30 a.m..
Parents help in the classroom approximately 8 times per year depending on class size.  There is a focus on weekly themes and activities in accordance with NYS Standards.  The 4's continue to work with fine and gross motor skills, letter recognition, calendar concepts, weather, colors and more!  They begin to work with numbers 11-20, are introduced to phonemic awareness, and more in depth crafts and activities.  Contact Us to schedule a tour today!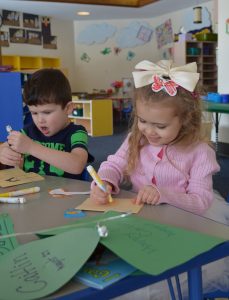 Sample Daily Schedule  
9:00-9:20   Arrival
9:25-9:40   Pledge, Morning Meeting, Daily Jobs, Calendar, Weather
9:40-10:00   Tabletop Activities (Small Group instruction)
a) a fine motor activity
b) a letter of the week activity
c) game
10:00-10:15   Yoga and Story of the Day
10:05-10:15   Letter/Number of the Week
10:15-10:30   Snack
10:30-10:45   Large Group Activity (having to do with the theme of the week)
10:45-11:10   Center Activities/Center Time
11:10-11:12   Clean Up
11:15-11:28   Outside
11:28   Exit Meeting with Kids and Closing Song
11:30   Dismissal
Tuition – $1385/1575*
*The 4's class offers up to six buy out slots where one pays extra to opt-out of most of the co-op responsibilities.  For those six families who opt-out, parents are not required to help in the classroom but are always welcome to join the class for special events.  
Child must be 4 years old by December 1st, 2019.
Space is limited.  Registration begins January 1st, 2019.