Monday – Friday  12:30 – 3:00 p.m.
With a focus on preparing students for transition to kindergarten, parents do not volunteer in the classroom.  There is continued work on fine and gross motor skills, letter recognition, and phonemic awareness.  They continue to work on calendar concepts, days of the week, writing , graphing, numbers 1-25, and pre-primer sight words.  The additional time in the classroom allows for extra activities like cooking with Mrs. Drost on Fridays.  Contact Us to schedule a tour today!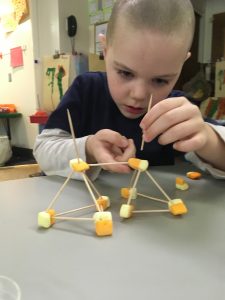 Sample Daily Schedule
12:30-12:50   Arrival
12:50-1:00   Pledge, Afternoon Meeting, Daily Jobs, Calendar, Weather, 100 Days
1:00-1:05   Explanation of Tabletop Activities (Small Group instruction)/Sensory Activity
1:05-1:20   Letter/Number of the Week/Sight Word of the Week, Tabletop Activities
a) a fine motor activity/game
b) a letter of the week activity
1:25-1:30   Yoga and Story of the Day
1:35-1:50   Large Group Activity (having to do with theme of the week)
1:50-2:30   Centers of the Day
2:30-2:45   Snack
2:45-2:58   Outside
2:58   Exit Meeting with Kids and Closing Song
3:00   Dismissal
Tuition – $2380
Child must be 4 years old by December 1st, 2019.*
*This class is geared towards older 4 y.o. and younger 5 y.o.
Space is limited.  Registration begins January 1st, 2019.