Monday – Friday  1:00 – 3:30 p.m.
** Now offering a 3-day option – Start the year 3 days/week and transition to 5 later in the year. **
Focus is on preparing students for the transition to Kindergarten. There is continued work on fine and gross motor skills, letter recognition and phonemic awareness. They continue to work on calendar, days of the week, writing, graphing, numbers 1-25 and pre primer sight words. To get used to a public school setting, parents do not volunteer in the classroom. Click Here to Watch Our Video Tour!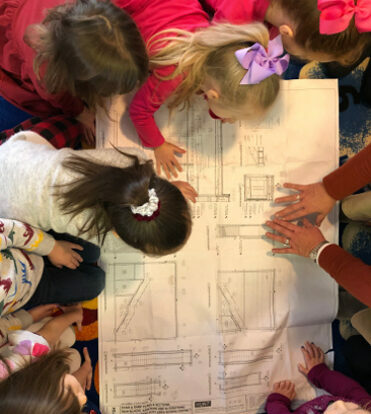 Sample Daily Schedule
12:45-1:00  Arrival welcome, Question of the Day, books, play dough, find your name and sign in, wash hands
1:00-1:20  Greeting circle and language development: pledge of allegiance, show and tell and Jolly Phonics
1:20-2:30  I.C.E. (Investigate, Communicate, Explore) Time: learning centers, such as math, language, science, books, dramatic center, fine motor, project, free flow snack, bathroom breaks, and hand washing
2:00-2:30  Snack table open — free flow
2:40-3:00  Math Circle: math concept, 100 day chart, calendar, weather, sharing and discussion about the morning
3:00-3:30  Large Muscle Movement/Outside: dance, yoga, cooperative games, music
3:30  Dismissal, sign out
Tuition:
5 Days/Week – $2380 ($595/quarter)
3 Days/Week – $1575 ($393.75/quarter)*
*Those attending 3 days/week may switch to 5 at the beginning of a subsequent quarter (11/11, 1/21, 3/25), with tuition adjusted to $595/quarter.  Registrants for the 3 Day KP offering need to fill out this form: 3_Day_KP_Registration_Addendum, in addition to our general registration form: PNS-Registration-Contract-2021-22
Child must be 4 years old by December 1st, 2021.